While I was away from the blog for the past month, I still caught up with what's going on around the Love Live universe, as I do run a LL-based Instagram account (which you can follow me @shukadaily yes I really did change my username to that). And let me tell you, the month of January, specifically for the seiyuu side of things, had some events that put a smile on your face but also moments that were more on the disappointing side.
Today, I'd like to explain some of those exciting and unfortunate events that occurred this past month involving the Love Live seiyuu. Even if you don't follow this series, I would say this stuff is still pretty interesting to read about.
---
First off, let's talk Shuka.
The Good: Shuka Saito Becomes Numazu's Chief of Police
If you don't know who Shuka Saito is, or her nickname being Shukashuu, she is the seiyuu for You Watanabe in Love Live! Sunshine!!, otherwise known as the queen amongst all queens.
According to the Anime News Network, on January 10th, Shuka was appointed to the Chief of Police in the city of Numazu (where LL Sunshine takes place) for approximately thirty minutes as apart of a traditional event called "110 Day", where the police force helps carry out publicity and inform people the correct usage of the phone number "110", Japan's emergency cell number. Apparently, they have invited many other J-idols to help with this event in the past, including Yui Ogura (one notable anime role being Tsukiko Tsutsukakushi from Hentai Ouji to Warawanai Neko).
So, Shuka was invited this year and oh boy, the LL community was excited.
Why was this event important? I don't know, but I love Shuka so that's why I and many others were flipping out. Plus, we got to see her in a nice police uniform AND her dancing along to a marching band version of "Koi ni Naritai AQUARIUM", which is a song with You as the center.
The Bad: NOTHING
Luckily nothing horrible happened with this, so that's a good thing. However it gets pretty worse from here.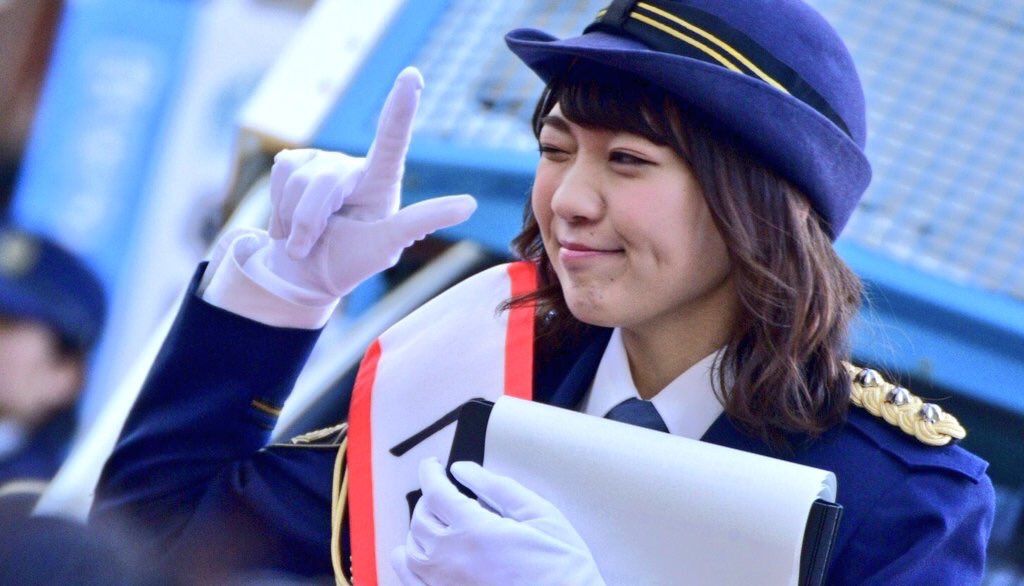 (By the way, my buddy Leap translated one of Shuka's magazine interviews for me so if you're interested, click here!!)
---
The Good: Mimorin Announces Her Relationship Status as Taken
On January 14th, Mimori Suzuko, most known for her role as Umi Sonoda in Love Live! School Idol Project, confirmed the rumors that she and Japanese professional wrestler Kazuchika Okada are in a serious relationship and have been for five months, to be exact.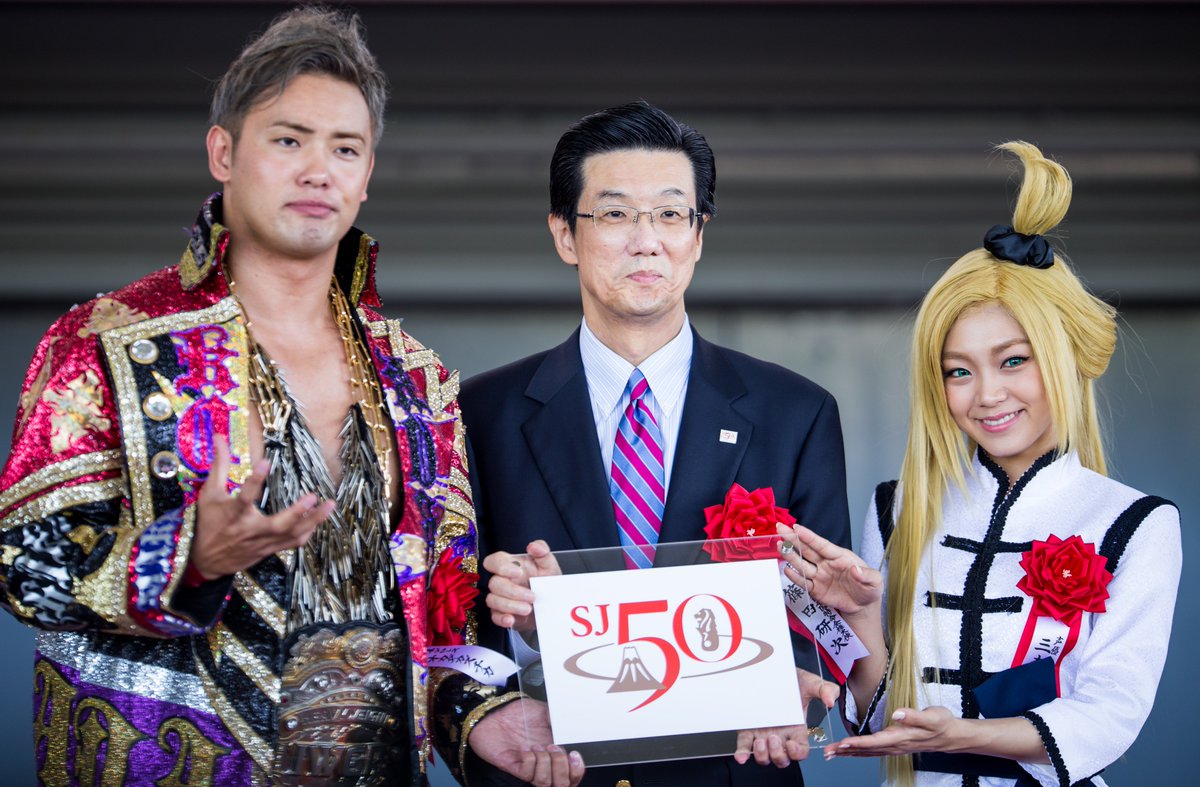 Yes, that is Mimorin on the far right.
How they met each other or how they started dating? I, at least, am not sure BUT when I saw this announcement, I was very happy for her. She's almost thirty-years-old, come on, she can live a little, damn.
And her significant other looks pretty cool, to be honest.
The Bad: The Otakus Run Wild… Again
If you've followed the blog before or have any idea what goes on in Japanese idol/seiyuu culture, you would know that the die-hard fans of idols have a specific set of rules that "supposedly" their idol has to follow. One very important rule is for all idols to NEVER be in a romantic/sexual relationship, as it would destroy the pure image that is preferred by fans.
Yes. The words I just wrote are actually what happens in idol culture.
Once the news broke that Mimorin has a new stud boyfriend, the fans did not hesitate to execute the death threats and burning of various Love Live merchandise that had Umi on them.
"Who is Okada(?)…
It is impossible for Okada and Mimori to have such relationships"

"Ace of pro wrestling world?
I can easily kill this small fry (Okada) with my surprise throwing knifes"

(translated taken from Pilefection Media)
Ah, man, it's tough.
This is normal protocol for Japanese idols, and to be honest, I'm getting used to this kind of shit but it's still pretty horrible to see fans act like this.
Whether you adore this couple or not, just please respect Mimorin's decision either way and keep your vile comments to yourself if you have any. Thanks.
---
The Good: Aqours Travel to Shanghai for a Fan Meeting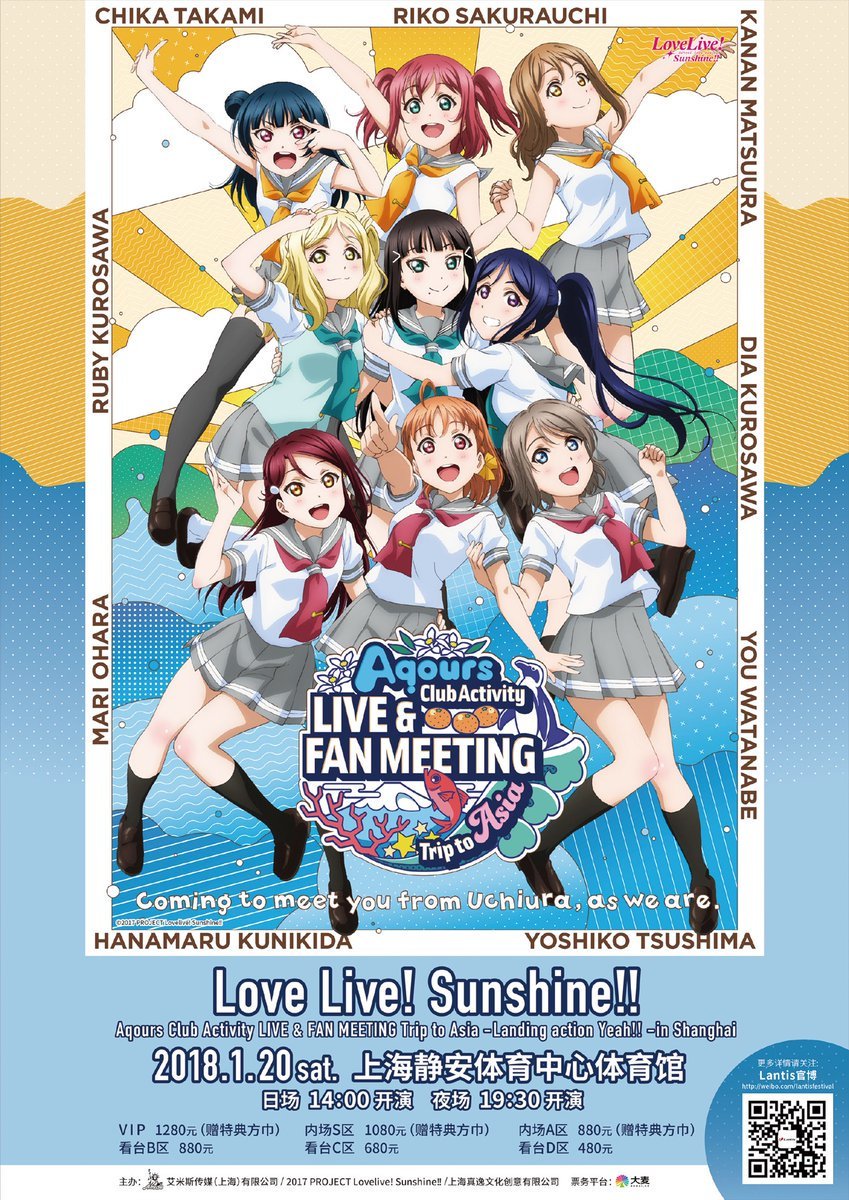 On January 20th, Aqours went over to Shanghai, China for a fan meet, involving a little chat and performance of their recent and old songs.
One of the big highlights of that fan meet was when a HUGE NanaAinya moment happened where Suwawa (Kanan's seiyuu) actually picked up Ainya (Mari's seiyuu) just like in episode one of season two of Sunshine!!.
If you'd rather want to watch a RikoYou interaction and/or see Shuka act like a dog, oh my god here you go:
The Bad: Probably the Worst Fan Meet Yet
Usually Aqours/Love Live fan meetings are chillax and filled with fun but this was probably considered the worst fan meet Aqours has ever held and the funny thing is, it wasn't even in Japan.
Let me explain to the best of my ability:
First off, it was rumored (and later confirmed) that some Shanghai viewers formed a group that had the goal of ruining a part of the Aqours concert. More specifically, they wanted to ruin what was called the "Kananrail" and the "Yousoroad".
A brief explanation of what those two are is that these are two fan-created (specifically the Korean concert-goers) "light shows" that occur for two specific songs. The "Kananrail" is when the audience make a rail-like formation with their glow sticks at a specific part of the Aqours single, "HAPPY PARTY TRAIN", a single with Kanan as the center, hence the name "Kananrail". You can see it in action here when Aqours went over to Seoul, South Korea.
Meanwhile the "Yousoroad" is pretty much the exact same thing, with the fans forming a sort of formation with their glow sticks but instead of being a train track, it would look like a road is forming right in front of Shuka's eyes during the song, "Koi ni Naritai AQUARIUM".
Basically, both the Kananrail and Yousoroad were ruined by a good amount of people in the Shanghai audience, as they didn't follow instructions and instead flashed a different color than the one they were supposed to do, PLUS there were apparently rude and vulgar things being shouted by that group of fans towards the seiyuu. I heard it even threw off Suwawa while she was singing and almost ruined the whole performance.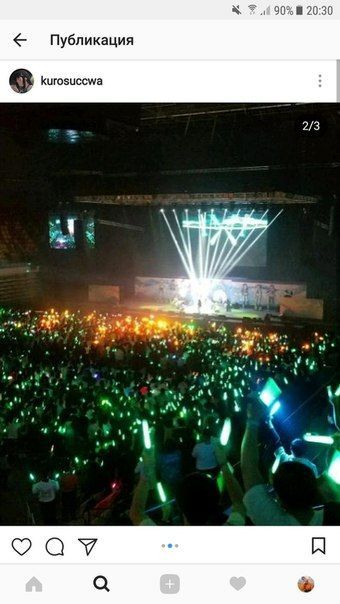 The Kananrail and Yousoroad are actually really cool things to see, and it's a real shame that it had to be disturbed this time around.
However, if you thought that was bad, you are in for a treat.
Lastly, some Shanghai "fans" had the decency to put certain, disturbing things in the gift boxes of all the Aqours members.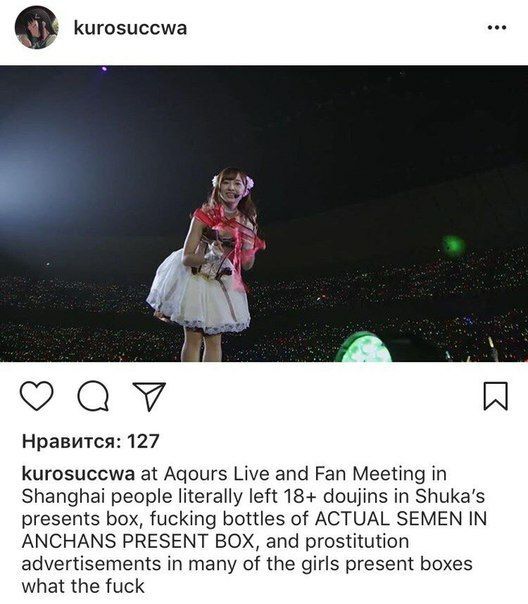 …it's actually pretty mind-blowing to hear this kind of news.
While I'm not saying that these kinds of incidents have never happened before in live concerts, of course there's the chance a mishap will occur, I think we can all agree that this particular incident was going a bit too far. Plus, this really does increase the decision to not have the group go overseas anymore for concerts. I know it sounds insane, but unfortunately there is a real possibility that Aqours will never appear in person in any other country than Japan.
The Good, Again: Reviving the Kananrail and Yousoroad
The next fan meet was held yesterday, February 10th (which is also Kanan's birthday), in Taipei, Taiwan. Right after the Shanghai incident, people took that news and encouraged the concert-goers to make everything right again and "revive" both light shows. Apparently from sources in Taiwan, everything did go in the right direction this time, so that's nice.
---
The Good: The Seiyuu of Saint Snow are Adorable
January 26th is when CYaRon (the Aqours subunit consisting of Chika, You and Ruby) had a live Niconama online segment with special guests Asumi Tano (voice of Sarah Kazuno) and Hinata Satou (voice of Leah Kazuno), or otherwise known as the duo called Saint Snow.
If I'm not mistaken, this is probably the first time we've seen the seiyuu for Saint Snow in an official live event. And I'm glad they finally got featured as Saint Snow had a pretty significant part in season two of the anime. I hope they'll be featured more often, and possibly perform at one of Aqours' future live concerts.
If you're dying to watch the whole live stream and don't care about subtitles, here you go:
Also, here's a fun preview segment with the first-years and Saint Snow traveling to some of the locations that were shown in the anime:
The Bad: NOTHING
Everything was a-okay with this. 🙂
---
The Good: μ's, Aqours and PDP Come Together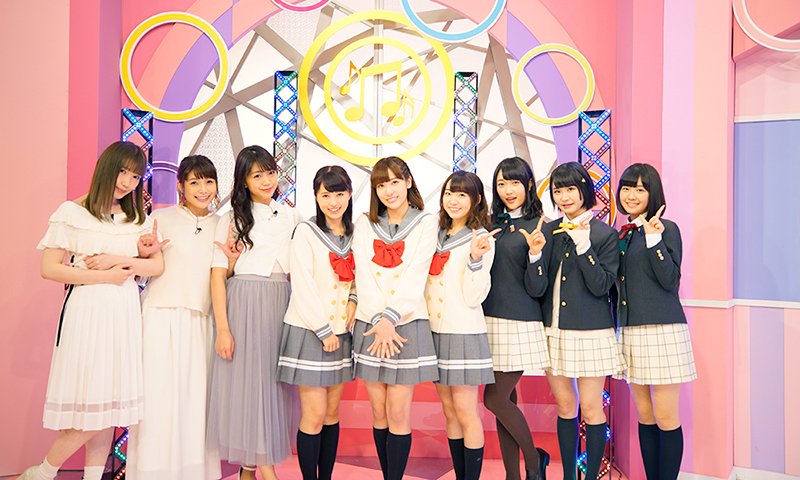 On January 16th, God decided that it was finally the time to gather all the Love Live groups together to celebrate the beauty and fun of school idols, thus an announcement was made that January 28th would the most holy day of the month when a special event would go down, courtesy of AbemaTV.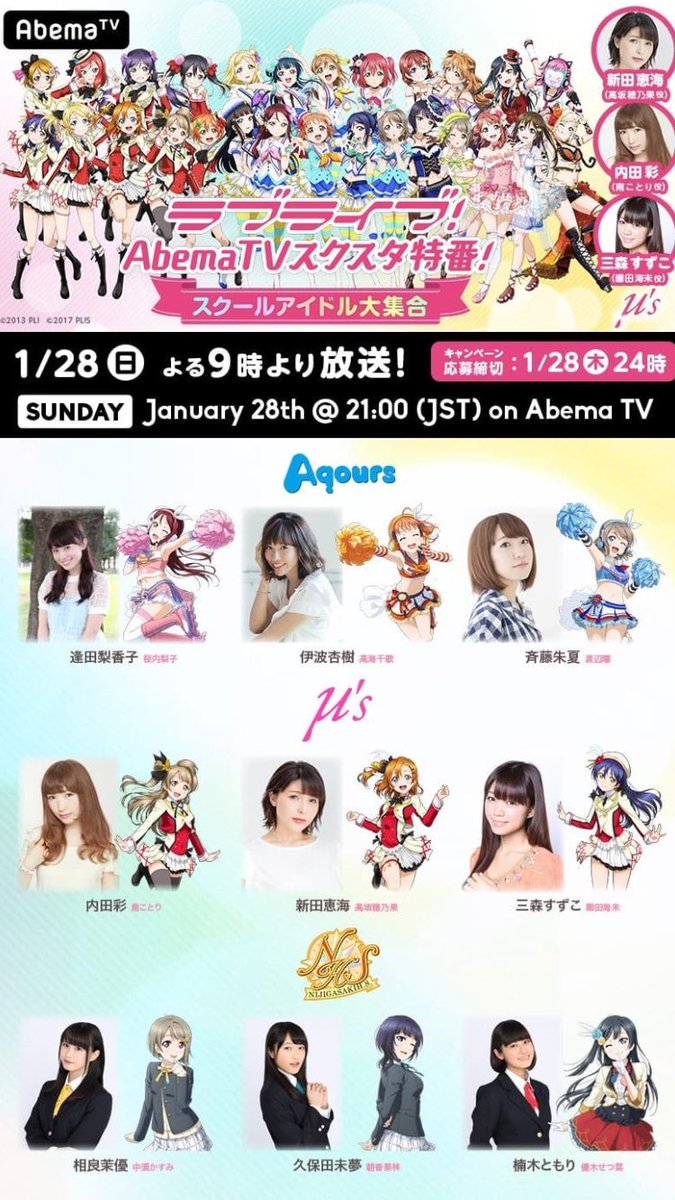 January 28th comes along, and I stayed up until 4:00 in the morning (differing time zones wasn't going to stop me) to witness history in the making, as some seiyuu from μ's, Aqours and the fresh Perfect Dream Project came together to promote the new Love Live video game, Love Live! School Idol Festival ALL-STARS.
Our "all-star" cast that night was as followed:
μ's (Love Live! School Idol Project)
Emi Nitta/Emitsun (Honoka Kousaka)
Aya Uchida/Ucchi (Kotori Minami)
Mimori Suzuko/Mimorin (Umi Sonoda)
Aqours (Love Live! Sunshine!!)
Anju Inami/Anchan (Chika Takami)
Shuka Saito/Shukashuu (You Watanabe)
Rikako Aida/Rikyako (Riko Sakurauchi)
Perfect Dream Project/Nijigasaki High's School Idol Club (could have an anime series in the next few years, let's cross our fingers)
Tomori Kusunoki (Setsuna Yuki)
Mayu Sagara (Kasumi Nakasu)
Miyu Kubota (Karin Asaka)
Basically, in this two-hour special, they did fun Love Live related activities such as voice dramas, ranking characters for each group for various situations, played games, shared news and we even got to see an Aqours cook-off between the first years and the third years, all while promoting the new game.
Thanks to the gods/goddesses over at Team ONIBE, they took no time at all to sub the whole thing. Here's part one out of five:
To keep it short, I was smiling so damn much when I watching this. Even though I had no idea what they were saying, I still had fun watching this events and the fact that 1/3 of the original group was right in front of my eyes once again helped with that.
This livestream also helped me start to fall in love with PDP, just from how the seiyuu are and act. Pretty sure Kasumi is going to be best girl… so far. 😛
The Sort-of Bad: They Barely Announced Anything for the New Game
All fun and games aside, the purpose of this special event was to promote the successor to the popular Love Live mobile game Love Live! School Idol Festival, Love Live! School Idol Festival: ALL-STARS.
While this isn't a big deal for me since I stopped playing the mobile game over time since it was just very tedious, I felt like this event/announcement was hyped up a lot and the outcome was a little disappointing, as they barely showed anything new for the upcoming game, not even a specific release date. It seemed like a pretty big cop-out for the people who are dying to know what's going on with this new project.
---
The Good: The Ships are Real in Nagoya
This is just a small thing that happened recently, on February 3rd, Aqours did a fan meet in Nagoya, Japan.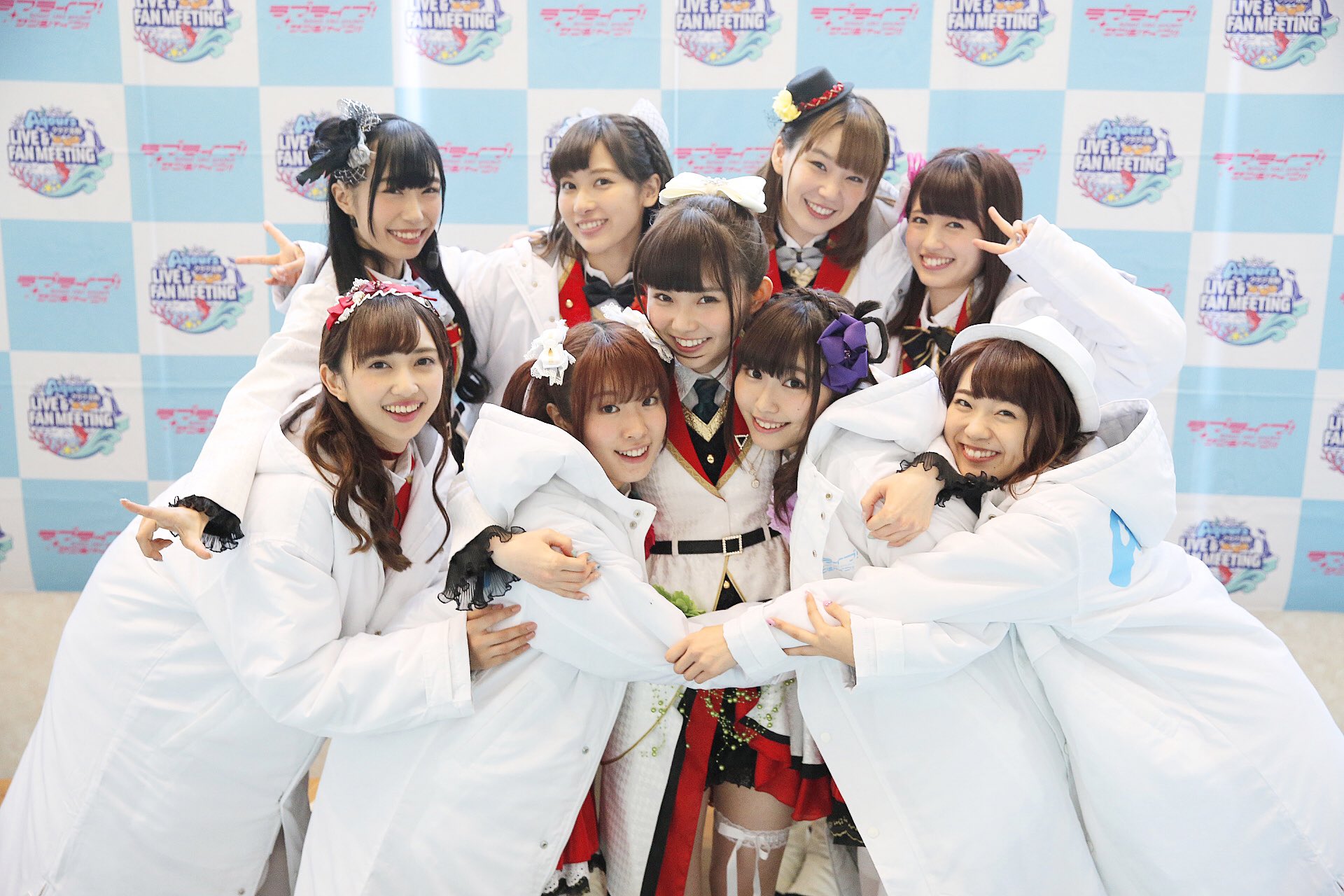 The significance of this is that things got pretty damn exciting as the various interactions between some seiyuu got people freaking out at the event, and in the online fanbase.
There's pretty much only one clip available to show you as of now, but if you want to watch Rikyako and King compete on who would be the better "boyfriend" to their "girlfriend" (Shuka)…
The Bad: NOTHING
Thank god.
---
Aaaaand I believe I covered everything Love Live related that happened in January and early February other than the various birthdays of Dia, Hanayo, Kussun, Anchan, Arisha, Kanan and also Furirin/Aiai's birthday is coming up on the 19th.
Overall, it was a fun-filled month for the franchise and the fans. However, we can definitely see that being an idol can be rough, but I love how they still can put a smile on their face despite the negativity that can come their way.
Thanks for reading, and I would be thrilled to read any thoughts you possibly have on the things I talked about today! 😀
-al