The Winter 2018 anime season brought in a very bizarre and meme-worthy parody-based comedy show called Pop Team Epic, adapted by Kamikaze Douga and originally a digital manga written and illustrated by bkub Ookawa.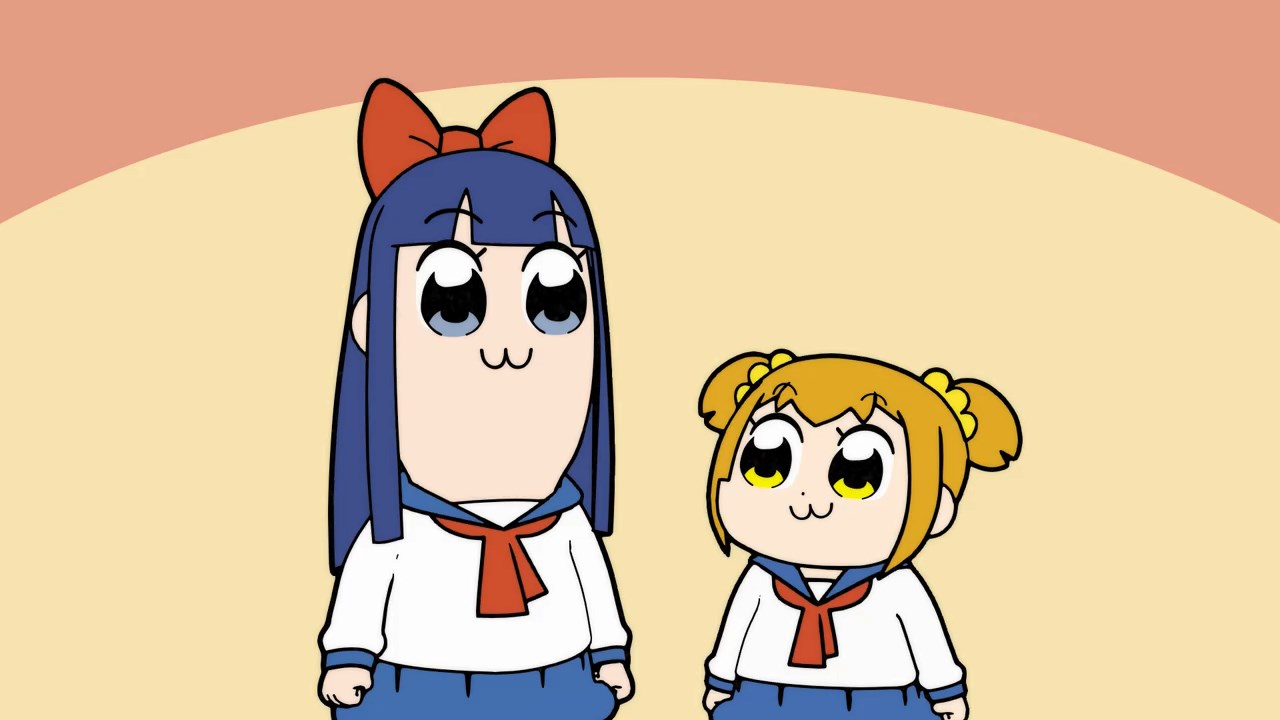 While the internet and meme fanatics are loving the silliness of these two, I'm not a big fan of this show.
I love "dumb" humor a lot, some examples of my favorites are KonoSuba, Nichijou and Aho Girl. However with Pop Team Epic, while absolutely dumb, I don't find the jokes, gags and references at all funny most of the time. It might be that I don't particularly get said jokes or that some sketches seriously don't make sense, but whatever the case may be, I dropped it.
I do watch various clips on YouTube sometimes just to see what they're up to, and I won't lie, some skits are pretty entertaining, but I really just can't sit through a whole 24-minutes of this absurd anime.
Humor aside, what interested me the most about this show was definitely the vast cast of seiyuu featured.
---
Pop Team Epic does seiyuu casting much differently than regular shows, as each and every episode has a completely new duo to voice the two main characters, Popuko and Pipimi. Also if you didn't know, the second half of the episode is a male variation of the first half.
If there's one thing I like about this show and how it runs, it is definitely their choices of voice actors and actresses. Every pair who have voiced these two main characters so far have worked together before and are significantly popular, loved by fans and/or iconic so I applaud them for caring immensely on who to bring in.
Today, I just wanted to mention some significant ones and some of my favorites.
---
Episode 1: Masashi Ebara (Popuko) + Houchuu Ootsuka (Pipimi)
Obviously they wanted to go out with a bang, so they got two seiyuu who are well known for being in the Naruto series together, Masashi Ebara (voiced Guy Might) and Houchuu Ootsuka (voiced Jiraiya).
I have no knowledge of Naruto but I love their ability to do some smooth, deep voices for characters.
---
Episode 2: Aoi Yuuki + Ayana Taketatsu
I think this episode is when I thought to myself, "wow they actually have some really nice talent in this show".
Yuuki and Taketatsu, while well-known for their vocal works, are also in the same idol duo-group called "petit milady"… and also apparently got their group name from the fact that both members' heights are under five feet tall. Alright then.
The two have released many albums and singles, as well as have some of their songs featured in various anime like Yu☆Gi☆Oh! Zexal Second.
And I think everyone knows at least one show these two have been in such as Aoi Yuuki voicing Madoka Kaname from Madoka Magica, Tsuyu Asui from My Hero Academia, Hibiki Tachibana from the Symphogear series; and also Ayana Taketatsu voicing Kotori Itsuka from Date A Live, Kiniro Kousaka from OreImo and Azusa Nakano from K-On!.
The two also worked together in various shows such as The World God Only Knows, respectively being Mio Aoyama and Ayumi Takahara.
---
Episode 3: Ryuusei Nakao + Norio Wakamoto
For any of the Dragon Ball fans who have watched the original Japanese version, these two voice Frieza and Cell.
That's pretty impressive to get two seiyuu of that kind of caliber. Nakao has also appeared in shows like Naruto, One Piece, Cowboy Bebop; while Wakamoto has voiced Charles zi Britannia from Code Geass and Gorou Ootaki from Detective Conan.
---
Episode 4: Yoko Hisaka + Satomi Satou
Let me ask you, have you ever heard of a little show called K-On?
Ah, and do you remember those two best friends, one was calm, reserved, was afraid of everything, while the other was laid-back and goofed around a lot?
Well, the two people that voiced those that duo reunited and voiced Popuko and Pipimi in episode 4.
It's nice to see that Mio and Ritsu are still connected, even in the littlest ways.
Also, if you're a Love Live fan, Rikako Aida, the voice of Riko Sakurauchi, actually voiced Mary, the woman on the phone in the above clip. Fun fact, she is also a reeeeeally big Pop Team Epic fan.
---
Episode 5: Yuuichi Nakamura + Tomokazu Sugita
You don't know how awesome it was seeing these two together.
I think we all know that these men are arguably two of the best male, and probably also in general, seiyuu right now.
Want to know how good these two are? Nakamura voiced Tomoya Okazaki in Clannad, Houtarou Oreki in Hyouka; while Sugita appeared as Gintoki Sakata in Gintama and Kyon in the ever-so-popular Haruhi Suzumiya series.
They also are hosts for a gaming-based program called Tokyo Encounter, where they just play a bunch of video games together with guests.
Other than that, these two probably have the biggest bromance I have ever witnessed in my life.
---
Episode 7: Satomi Koorogi + Akiko Yajima
Not only are these two in the extremely popular series of Crayon Shin-chan, respectively as Himawari Nohara and Shinnosuke himself…
BUT, they are also in the romance drama, Clannad.
Yep, Koorogi is Ushio, while Yajima is the garbage doll from the Illusionary World. However, I will not go any farther in explaining how these two characters are connected cause that's a huge spoiler. 🙂
You can definitely tell it's Ushio in this episode.
---
That's all I'll list for this post, there are so many other cool duos that have appeared in Pop Team Epic. While you (and I) might not like this show, you gotta give this studio some credit.
Will there be a Rie Takahashi/Inori Minase episode? Would Daisuke Ono be up for this role? Can they complete the K-On! circle with casting Aki Toyosaki and Minako Kotobuki? Only time will tell…
---
Thanks for reading!! 😀
-al