One day while I was listening to my song compilation of random J-music that I discovered on Spotify, the last song on the playlist came to an end. If you've ever used Spotify before, after you've gone through all the songs in a playlist, it automatically plays music that is similar to what you just listened to.
That being said, this song came up:
"Telecaster Stripes/テレキャスター・ストライプ"
"Oh my god this song sounds sick", is what I said while listening to it… probably. I added this new song in my playlist just to save it for later, but due to my obsession with other artists like SHISHAMO and Ohashi Trio at the time, this particular band would be neglected for a unhealthy amount of time.
It would be then a little bit later when I would rediscover this band which led to me listening to and watching their interesting music videos, following the members on Twitter and they even got me to spend good money to purchase an actual physical CD of their newest album… it doesn't take much for an obsession to make me go as far as to buy something of theirs.
Today, I'd like to talk about this band, Polkadot Stingray/ポルカドットスティングレイ, and sort of review said album, Zenchi Zennou/全知全能.
But first, let me give some background info about this band.
A Japanese rock band formed back in April 2014, Polkadot Stingray is what I think most people would called "underrated". Possibly because they've only gotten a good amount of attention in recent years but whatever reasoning it may be, this band is definitely one that shouldn't be slept on by people who enjoy Japanese rock and music overall. Consisting of Shizuku on lead vocals/guitar, Harushi Eijima on guitar, Yuki Uemura on bass and Kazuma Mitsuyasu on drums, this four person band makes their music fun, cool and captivating to listen to.
So far they've released two singles ("Gokusai" and "Yoake no Orange"), one EP ("Honeuki E.P."), two mini-albums ("Ichidaiji" and "Dai Seigi"), a full length album and Polkadot Stingray announced their next mini album, "一大事", that'll be releasing May 9th of this year.
Their music has also been featured in commercials for some companies with big names, this one being an advertisement for Sony's Playstation 4 gaming console with Polkadot's song, "A Short Short Story".
I'll be talking about their first full album today, "Zenchi Zennou/全知全能" (or in English, "Capacity"), which was released pretty recently on November 8th, 2017.
Format + Style
Since this is Polkadot Stingray's first actual album, they mixed together new songs as well as previous songs that were originally featured on their past singles or EP. Those past songs have the added label of "(Capacity ver.)" as they were re-recorded for this new album.
If I could only describe this album with one word, it would definitely be "varied". This band amazingly made this album diverse with their songs and each song was honestly a different experience from one another, in my opinion.
For example, "Electric Public/エレクトリック・パブリック" is a pretty fast paced song and keeps you on your toes…
"Electric Public/エレクトリック・パブリック"
…while a song like "Jet lag/ジェット・ラグ" is a lot more chillax and somber.
"Jet lag/ジェット・ラグ"
And then you have "I Don't Remember At All/顔も覚えてない" where it's such an odd but entertaining song with drastic changes in tones, a section of the song where they're just having a conversation and even a part where the whole band is screaming in your ears.
"I Don't Remember At All/顔も覚えてない"
Vocals/Instruments
I think one of the main factors on why this album's music is so varied is definitely the vocalist's voice, Shizuku. Something about how she can sing in different tones and pitches (especially around the choruses and bridges) for different songs made me appreciate not only her as a really nice vocalist, but how unique "Zenchi Zennou" is expressed.
"Fleming/フレミング"
"Synchronisica/シンクロニシカ"
Since I mentioned vocals, let's transition into the actual music/instruments. I don't want to throw any shade to Yuki and Kazuma, I truly love what they do, but one of my favorite aspects of Polkadot Stingray's music is definitely the sick guitar playing skills of Harushi. Oh my god this dude makes my jaw drop whenever he does his solos and riffs, and as an amateur guitar player myself, not only am I jealous but I really do admire him. If I had to pick my favorite performance from Harushi, it'd be "Telecaster Stripes/テレキャスター・ストライプ" or "REM/レム".
"REM/レム"
Theme/Mood
This category is a little bit harder to talk about since there hasn't been many translations for this album, but with the limited information I have, I can fairly explain what themes and moods Polkadot Stingray was going for.
Like a lot of Japanese artists, their songs and their meanings tend to be about love, and Polkadot Stingray pretty much isn't different. In their case, they like to lean towards the sad part of loving someone, as a lot of their songs talk about the falling out of a relationship between two people… I think.
In their song, "Surrender/サレンダー", the lack of time is what separates this particular relationship and even though they try their hardest to stop time or have the patience to wait for one another, hope is slowly decreasing for these two individuals.
Inside your eyes, even now the space is moving around,

please, even 7 seconds are fine,

so cast your spell!

Top speed!

Time, please, stop!

The lies which keeps flowing out look like tears,

I realized that it will eventually melt,

so, even this moment, is just fine.
– translation by VKPoetry (zuihitsu2015.wordpress.com)
"Surrender/サレンダー"
While in "The Mermaid/人魚", it expresses a relationship between a patient and a doctor. The patient refers to themselves as a mermaid but like in the fairy tale, The Little Mermaid, they don't have the knowledge on how to love, which makes them feel of no worth and soulless… at least that's what Leap kinda said lol
愛してなどと言っていなくて
(ai shite nado to itte inakute)
[ I haven't' said I love you just yet, but ]

この退屈を殺してほしかった
(kono taikutsu o koroshite hoshikatta)
[ I wanted you to kill this boredom. ]

間違っていたのはあなた
(machigatte ita no wa anata)
[ You got it wrong– ]

負けたのは私
(maketa no wa watashi)
[ I'm the loser. ]

恋の仕方も
(koi no shikata mo)
[ How to love, ]

恋の仕方も知らない
(koi no shikata mo shiranai)
[ I don't know how to love. ]

恋の仕方も知らない
(koi no shikata mo shiranai)
[ I don't know how to love. ]
– translation by Leap250 (leap250.wordpress.com)
"The Mermaid/人魚"
There are many other songs that have this same theme of "not being able to love someone" and the frequent sad mood people get out of Polkadot Stingray's lyrics (and music), and to be honest, I sort of enjoy hearing those kinds of subject-matters in music, mainly because I've heard a lot of songs both English and Japanese that set their narratives like that. Very popular theme for songs.
Conclusion
Other than stating that this album is amazing for it's variety, honestly everything I wanted to say in this section has already been said; Polkadot Stingray is a band that way more people should listen to, and Shizuku and Co. make stunning and enjoyable rock music with their vocal and instrumental skills. If you're looking for new music to listen to, I would definitely suggest trying this band out.
I'll include one final song which is one of my favorites out of the bunch, "Polkadot Stingray/ポルカドット・スティングレイ". I freaking love Shizuku's voice and the acoustic guitar in this.
Now if you would excuse me, I'll be browsing Shizuku's Twitter that has an unhealthy abundance of pictures of her cat, Bibi.
---
If you'd like to purchase Polkadot Stingray's album, "Zenchi Zennou/全知全能", here are some links to buy it: Amazon Japan, CDJapan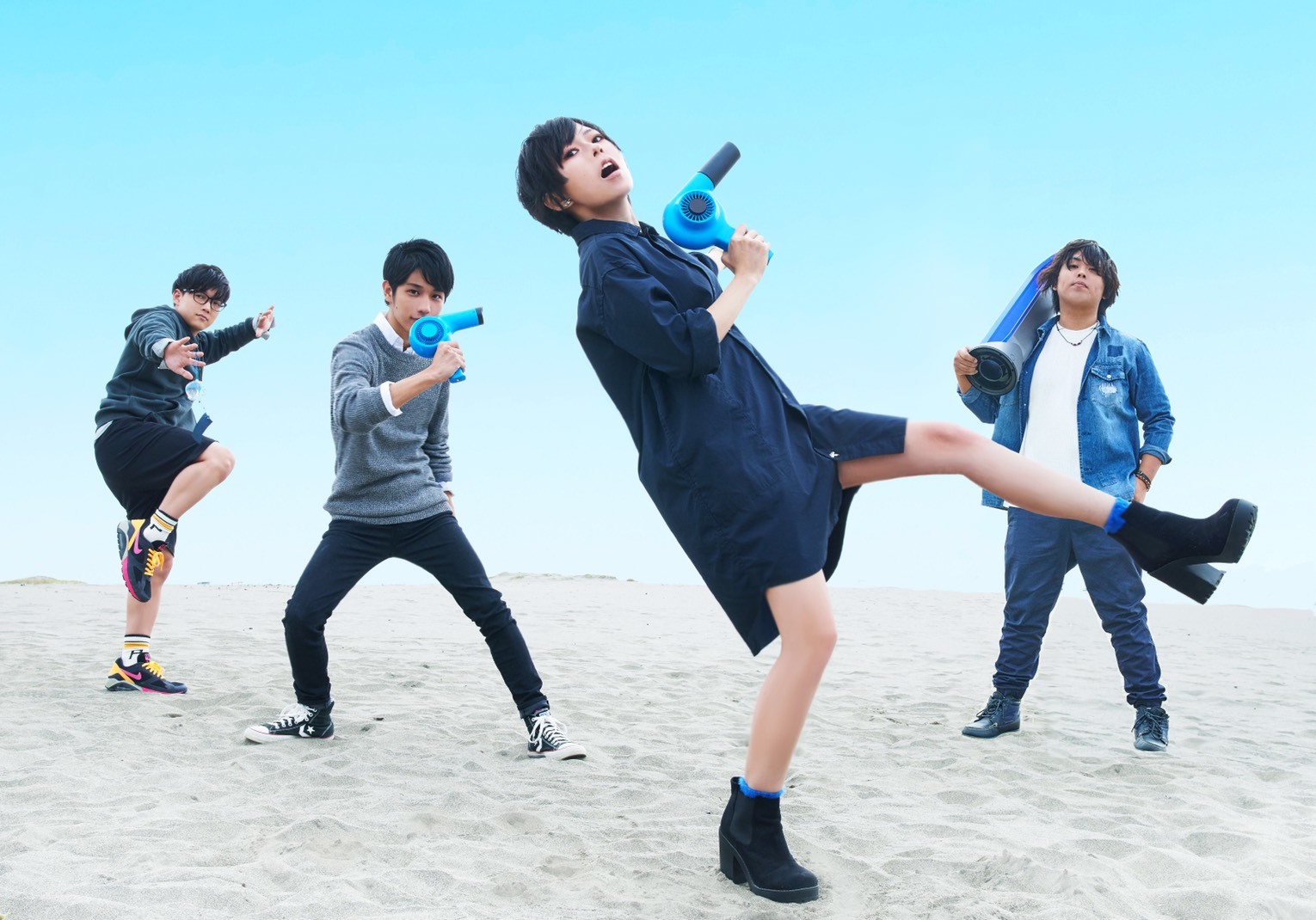 ---
Thanks for reading!! 😀
-al