In this week's post, we're going back in time, about a year or so ago when I made this same list on my old blog. Now that I look back and vaguely remember that post, I think I have to change a few things up to make it the perfect list of my personal favorite K-On songs…
…plus, think of this as a filler post, as I'm working on other post ideas and such. 😛
Just to give you some background info/introduction: one of the best things about the K-On! series is obviously the music, and there are so many songs that are both catchy and enjoyable to listen to. Here's my ultimate list of my favorite songs from Houkago Tea Time that I put a lot of thought, sacrifices and love into.
---
10. "Ohayou, Mata Ashita"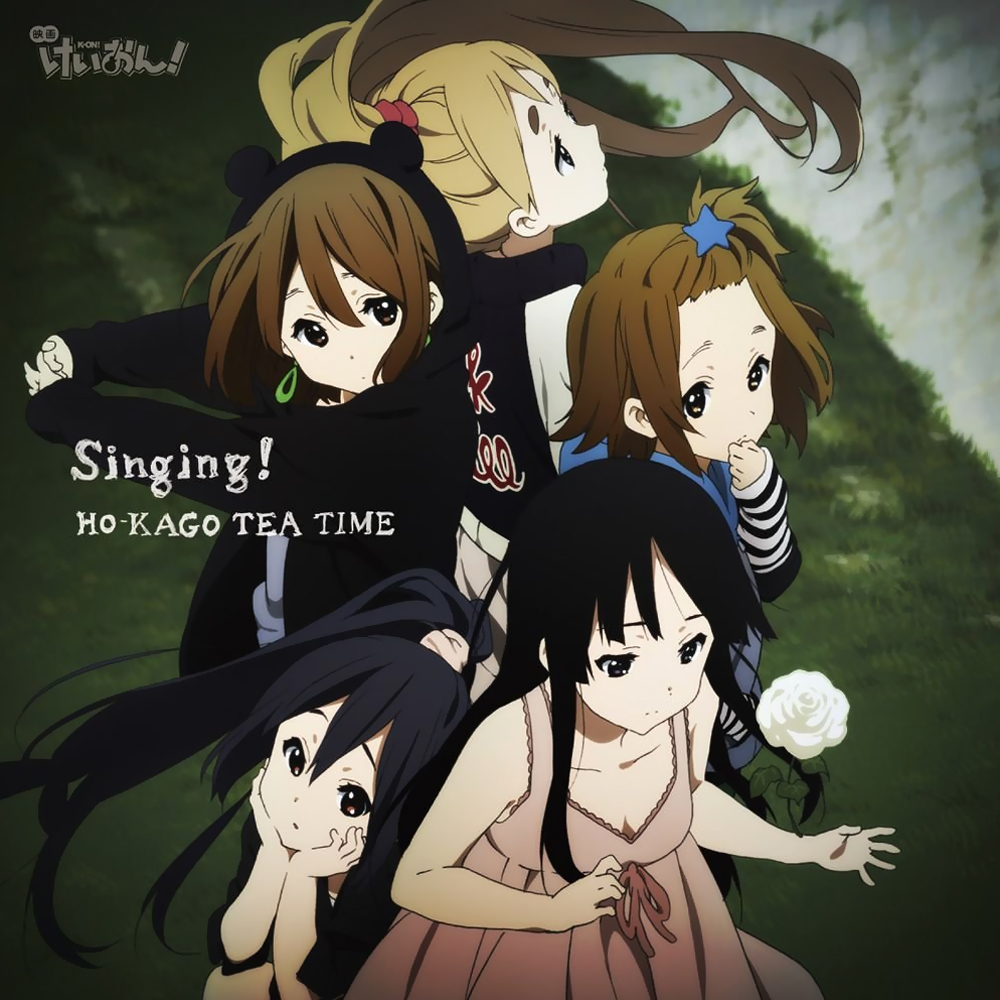 Packaged in a small album alongside "Singing", this song is much different from the K-On! Movie ending. It's a lot more cheerful and chillax than most HTT songs in general, thanks to the different instruments and pace of the track. A nice thing to note in this song also is the fact that everyone in the band is singing along with each other. There aren't a lot of HTT tracks that include the whole band singing, so this is one special treat.
---
9. "Utauyo!! MIRACLE"
A very cheerful and loud song from HTT, it's a great track for it to be the last opening in the entire anime series. One of my favorite things about it is definitely Yui's vocal performance, it really seems like Yui is singing her entire heart out for this song.
Let me also add a little confession here to one of my friends Shoka: I think when I said I don't particularly liked this song, I believe I mixed it up with the second season's other opening "GO! GO! MANIAC". While I can see why people like GGM, I just didn't find it as good as other K-On songs… even I'm surprised that there's a single song in their discography that I didn't like lol
---
8. "Singing!"
As I mentioned earlier, this is the ending theme for the feature film installment of the K-On series, and it's really damn good. If you listen to all the other endings from this series (which they are all sung by Akiyama Mio), her vocals in "Singing" are significantly different from songs like "Don't say lazy" in my opinion. Overall, it's a nice song to end off a wonderful ride in the anime series.
---
7. "Pure Pure Heart"
Featured in episode 7 of the second season (who wouldn't want to join the Mio fan club), I remember that this was one of the best HTT songs I've ever heard while I first watched the anime series many years ago. Now that I've grown older, I've realized that my tastes have changed as you can see in this list, but I truly still think it's a great song. Mio's performance in this, more specifically in the chorus, she KILLS it.
---
6. "Fude Pen ~Ballpoint Pen~"
A fun and catchy song to listen to, and again, the very memorable guitar solo we hear in this song is just amazing.
There's actually an alternative version of this song, sung by both Yui and Azusa, that was featured in episode 9 of the second season, which can be considered better than the original. What's special about it is that one, Azusa is actually singing which you don't really see that much in this series; and two, the only instruments in this version are guitars. No bass, keyboard or drums… it's amazing what instruments can do.
---
5. "Listen!!"
As always, Mio's vocal performance in this song is very nice, but I'm real glad that they exemplified Mugi and her keyboard playing, as she had a chance to show off in various parts of the song and even had an memorable solo in this. It's overall a nice ending.
---
4. "Ichiban Ippai"
The first song we hear in the K-On! Movie, this is seriously one of the happiest songs I have ever heard in my life. The radiant vibe of this song, paired alongside the vocals of Toyosaki Aki and the rest of the group as background singers, and of course the instrumental performance all just makes you want to smile.
---
3. "Fuwa Fuwa Time"
This extremely iconic song was actually number one on my old list, but as I listened to HTT more and more, I realized that the most popular isn't always the best. However it is absolutely still a great song to listen to, as this is a great example of how Houkago Tea Time is as a rock band. Just a bunch of ladies having a blast making fun music.
---
2. "Tenshi ni Fureta yo"
If you've never seen the K-On series and want to, I painfully have to suggest that you skip this song because it's essentially a spoiler. Just saying.
I think it's pretty obvious why this is so high on my list of favorite K-On songs: it hits you right in the feels. Like, I'm not joking, almost every time I listen to this song, I start to tear up. Just remembering the beautiful moments we as viewers and fans saw this group go through and the tight friendships Yui, Ritsu, Mio, Mugi and Azusa developed in two seasons, this song perfectly reflects those two things.
---
1. "U&I"
My favorite character in this show is not Mugi, not Mio, not Ritsu, not Azusa and not even Yui herself. It's actually the other Hirasawa sister, Ui.
…why? How could you not love her?! I could go on and on about Ui but if I could sum it up in one sentence, she is definitely someone you would want in your life.
It's not until recently that I realized that this song is in fact my favorite K-On song in the entire universe, mainly because of the person who wrote and performed it: Yui. Yui amazingly wrote her feelings and how grateful she is to have a sister like Ui in a beautiful song. And both her songwriting and singing sound super genuine, it almost makes you want to cry at how great close and loving this sibling pair is… or is that just me.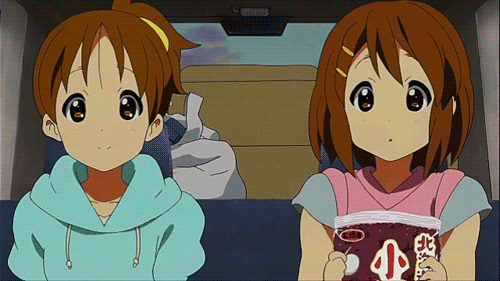 Also, let me just show you the real tear-jerking lyrics in this song:
If you're not around I can't do anything
I long for the taste of your cooking
So when you get back home
I'm gonna glomp you with a great big smile

If you're not around I can't take it anymore
I long for the sound of your voice
Just being able to see you smile that would mean everything to me

Simply being by my side you've always given me the courage
I wanna be with you forever and a day
I wanna tell you that this is how I feel

(translations from the K-On Wikia)
---
I know there are songs beyond the ones we heard in the anime itself such as solo songs even from the side characters like Nodoka and Jun, but I for some reason never really delve that deep in the HTT discography. If you know of any good ones I should listen to, definitely comment them down below!
Anyways, I hope you enjoyed reading this list! I'm curious of what other peoples' favorite K-On songs are, so feel free to comment them as well.
If you're interested in reading a review on this show, check out my write-up about K-On on #moe404!
Thanks for reading!!
-al